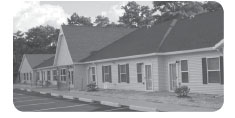 Champion Place
33 Tempest St., Perry, New York
• 19 - One Bedroom, First Floor Apartments
• Energy Star Appliances
• Rent Based on 30% of Tenant's Income
• Gas Heat, Hot Water, Water, Sewer, Trash Collection, Stove & Refrigerator Included in Rent. (Tenant Pays Own Electric)
• Laundry Facilities & Mail Delivery within the Building
• Secure Building - Manager On-site
Tenants Must be 62 OR OLDER AND INCOME ELIGIBLE
Applications can be mailed or picked up at
WYOMING COUNTY COMMUNITY ACTION
6470 Rt. 20A, Suite 1 • Perry, NY 14530
Please call 585-237-2600 or 585-237-6601
with questions or for an application.
Available pursuant to the Fair Housing Act's equal opportunity and the accessibility requirements. Section 504 of the Rehabilitation Act.