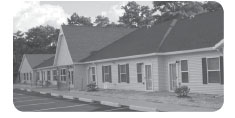 AFFORDABLE SENIOR HOUSING
Looking for Affordable Senior Housing?
Champion Place
33 Tempest St., Perry, New York
• 19 - One Bedroom, First Floor Apartments
• Energy Star Appliances
• Rent Based on 30% of Tenant's Income
• Gas Heat, Hot Water, Water, Sewer, Trash Collection, Stove & Refrigerator Included in Rent. (Tenant Pays Own Electric)
• Laundry Facilities & Mail Delivery within the Building
• Secure Building - Manager On-site
Tenants Must be 62 OR OLDER AND INCOME ELIGIBLE
Applications can be mailed or picked up at
WYOMING COUNTY COMMUNITY ACTION
6470 Rt. 20A, Suite 1 • Perry, NY 14530
Please call 585-237-2600 or 585-237-6601 with questions or for an application.
Available pursuant to the Fair Housing Act's equal opportunity and the accessibility requirements. Section 504 of the Rehabilitation Act.
Remodeled Double Wide
FOR RENT-WARSAW: 3 bedroom double wide-remodeled!
References/security deposit required. $900/month 786-
2386.
1 BEDROOM LOWER.
FOR RENT-SILVER SPRINGS: 1 BEDROOM LOWER. NO
PETS! Lease, references, and 1-month security required.
Major appliances, washer, dryer and garbage included.
$600/month plus utilities. Available February 1st. 786-2954
3 bedroom house
FOR RENT-SILVER SPRINGS: 3 bedroom house, $900/
month. First and last month/security plus utilities. No pets.
738-4710
Large 4 bedroom, 1.5 bath house.
FOR RENT-VILLAGE OF WARSAW: Large 4/5 bedroom, 2
bath house. Stove, refrigerator, washer/dryer hook-ups.
House was recently remodeled with new kitchen & bath-­
rooms. $1,100/month plus utilities/security deposit. Call Jay
@ 233-4158.