Featured Employment
POSITION OPENING - MAINTENANCE TECHNICIAN
This position performs a variety of accidental and preventative maintenance activities to ensure the effective operation of all equipment and buildings while meeting customer, Federal, State and Trouw Nutrition safety and environmental protection requirements.
Job duties include:
• Assist in the development, implementation and scheduling of appropriate preventive, corrective and routine maintenance programs for site facilities, utilities and equipment including housekeeping.
• Diagnose machine and equipment troubles, and determine extent of repairs necessary; tear down units, generate materials list for worn or defective parts, prepare proper requisitions for parts not in stock; reassemble; make adjustments. Equipment includes conveyors, palletizer, blowers, air compressors, bagging machines, scales, forklifts, man-lifts, and HVAC.
• Troubleshoot and repair a variety of electrical equipment such Programmable Logic Devices (PLCs), computer controls for automated systems, single and three-phase AC motors, low voltage switchgear, solid-state components. Utilizes and interprets various types of test equipment such as micrometers, feeler-gauges, volt-ohm-meters, amp-probe's, data loggers and manometers, etc.
• Utilize Computerized Maintenance Management System (CMMS), ManagerPlus, for asset management, work order management, preventative maintenance scheduling, inventory, etc.
• Excellent communication skills (written and verbal), good computer skills in word processing, spreadsheet applications and email programs and be able to obtain forklift certification.
A minimum of a High School diploma or GED is required with three to five years of industrial maintenance experience OR advanced education at a Vocational Technical institute with studies in industrial maintenance along with a minimum of one years' experience.
This is a full-time position, located at our plant location in Strykersville, NY.
Trouw Nutrition USA offers competitive compensation and a full benefits package, including medical, dental, life and disability insurances and a 401(k) plan with generous company matching funds that are vested immediately. Benefits are available immediately upon the employee's hire date.
Apply at the following link: https://nutreco.wd3.myworkdayjobs.com/en-US/Nutreco_External/job/Strykersville-New-York/Maintenance-Technician_VAC4543. If you need assistance, please call us at (618) 654-2070 and ask to speak to a member of the HR Department.
Full-time meat cutter and full time meat wrapper.
HELP WANTED
Full-time meat cutter and full time meat wrapper.
• 40+ hours/week.
• Competitive wages.
• Experience preferred but willing to train.
Kramell's Meat Market
6531 Cowie Rd., Wyoming NY 14591
585-689-5376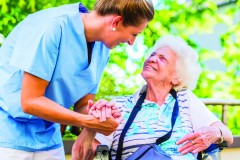 PCAs, HHAs & CNAs
NOW HIRING CERTIFIED
PCAs, HHAs & CNAs
Jan & Bev's Home Care Inc.
102 N. Main St., Wellsville, NY 14895
585-593-3760
Call between 8:30 am and 3:30 pm
Monday - Friday