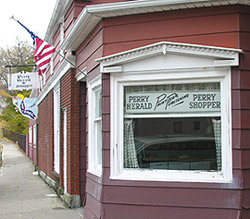 The Perry Shopper was started in the 1950s by Joe Pascoe, who also owned the Perry Herald newspaper (began in 1876). Pascoe, a journalist, moved from crowded New Jersey to pleasant, rural Perry. He met Clyde and Ray Browne owners of the Warsaw Penny Saver at the Silver Lake CC. At that time, hot-lead-type print-shops all over the US were being converteded into offset printing shops. Pascoe began printing on paper from aluminum plates wrapped aroud a cylinder instead of from solid type dating back to Gutenberg in the 15th century. The 1950s were indeed a defining period in the printing industry.
Advertising art was composed by artists who pasted letters onto paper. This method continued throughout the 1960s, when a new machine was invented called the Compugraphic. They were able to electronically produce an entire line of text copy, thusly eliminating the ageleass typewriter. In the 1980s, advances in typesetting exploded with computerized desktop publishing.
Mr. Pascoe sold his Herald/Shopper business to J.N. and Betty White in 1975. At this time, the Whites owned a fledgling screen printing company in Perry: J.N. White Designs. The Whites installed computers in the Shopper that could actually draw pictures adjacent to type matter. In the 1980s, scanners appeared that made photo reproduction possible for the first time. At this juncture, it was apparent that artists who could draw by hand were no longer needed to create ads. Computer literate people were desperately needed throughout the printing industry. They learned complex computer skills in schools and by practising at home.
In 1989, the Perry Herald, Perry Shopper and J.N. White Designs were sold to Randy White. Randy White continued as CEO and president of J.N. White Designs, but he sold the Perry Herald/Shopper to the Warsaw Pennysaver in 2005. The owners, Christine Kennedy-Till and Colleen Kennedy, continue to use the most advanced electronic equipment from start to finish.